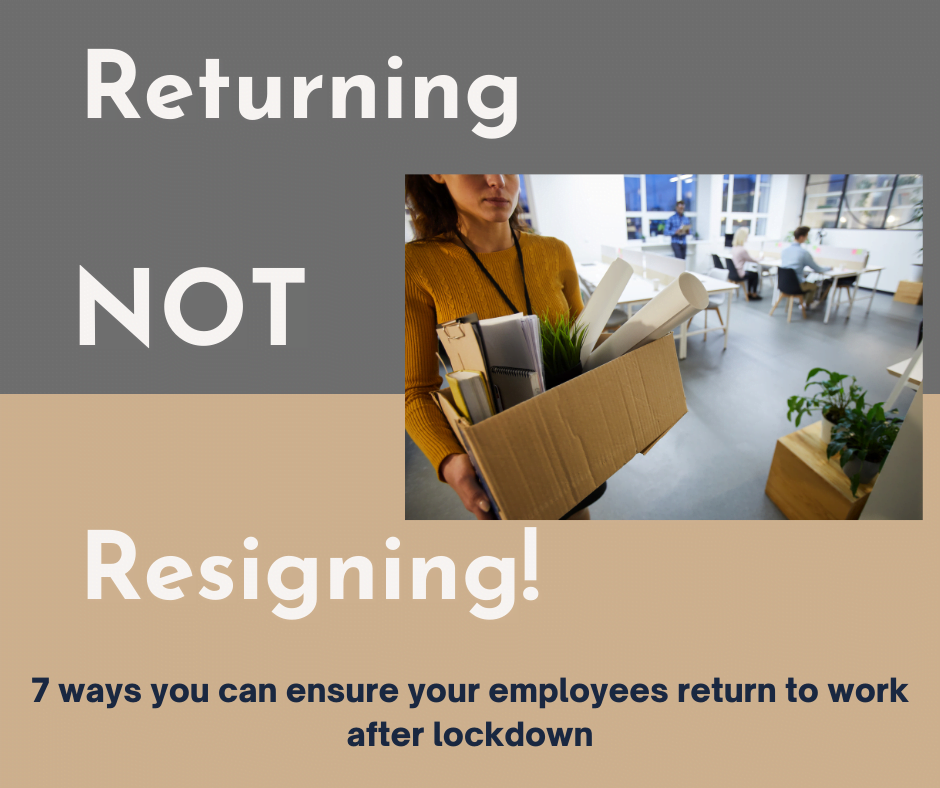 7 ways you can ensure your employees return to work after lockdown

Being in the midst of a global pandemic has brought a whole host of challenges, of which we're all patently aware. On the other hand, it has also brought the opportunity for some considered introspection. All this time at home, whether you've continued to work or you've had to take leave, or reduced hours, has allowed time for each of us to reflect on what's important. 

Some people have relocated out of cities or to different states, to enjoy the marginally increased freedoms afforded by regional living. Others have enjoyed working from home (despite the juggle of childcare) and have come to appreciate the hours saved by not commuting and the flexibility of popping on a load of washing between Zoom meetings. And some have relished the extra time at home to work on projects, spend time with their family or to finally read that book!

Regardless of how that time's been spent, priorities have shifted and some life-changing or affirming realisations have been reached. And this is no more apparent than in the workforce.

As the Northern Hemisphere has been forced to navigate the pandemic a few months ahead of us here in Australia, working in executive recruitment, I have been keenly watching the trends coming from that part of the world. And what we're seeing gives us a fair indication that people are seriously considering what they want from their employers. In fact, in the US, the Bureau of Labor Statistics found that in August this year, a record 4.3 million workers quit their jobs. This is the biggest number they've recorded since tracking this data in December 2000.

If you'd like to look further afield, in April of this year, Microsoft surveyed approximately 30,000 people across 31 countries and discovered that over 40% of the global workforce was contemplating leaving their employer this year. To consider that statistic in your own workplace, you'd be facing just under half of your employees looking for work elsewhere!

Without considering this data, it would be easy to assume that, given the uncertainty in the world right now, people might be more inclined to stay where they are rather than taking steps to find a job. However, we are in a fortunate position where we can see patterns emerging from other parts of the world and prepare our own businesses for a similar experience.

Across Australia, as various states have come in and out of lockdown, we've heard time and again of the pressure it puts on families as they attempt to juggle childcare while also keeping up with work. And it would seem for the most part, women have been more affected than men.

In Canada, Visier has been tracking employment data since 2018 and, in June this year they reported that female resignations have increased year on year in that time. This was made even more apparent when, in 2020 there was a further spike in female resignations, indicating it was mostly women who were stepping out of the workforce and into full-time caring roles at home.

Also of note in this Visier study was that the greatest increase in resignations has come in the 40-45 year old age group. Just think what this could mean for your own business. We're talking about mid-career professionals who would have significant experience and are most likely, in some kind of management position making them not so easy to replace.

These are some incredibly telling statistics which, as employers, we would do well to pay attention to. Within the Microsoft study, they identified 7 trends which explained the motivations driving the increase in resignations. Let's take a look at them and highlight some ways in which they can be countered to ensure your employees are returning to work, rather than resigning from it.
Employees do not want to say goodbye to flexible work – now that it's largely been proven that working from home or working around family commitments is possible, this is not something your people will want to give up. Allowing flexibility around work hours or some work from home days will certainly motivate your team's return.

Leaders are out of touch with their employees – there are many ways in which this can be turned around and the common theme within each of them is to simply listen. Whether you set up 1:1s or you send out surveys, demonstrate that you're hearing their needs and show them by incorporating their suggestions into your business where possible.

High productivity is hiding exhaustion – this is such a common theme in modern life and something which we all know needs to be rectified. To change a culture of long hours, you must start at the top. Do your best to keep to respectable work hours yourself and acknowledge people for their individual achievements, rather than unsustainable output.

Gen Z at risk – it was particularly interesting to read that younger employees genuinely want to interact with older employees and relish the opportunity to learn from them. If your mid-career team members are at higher risk of resignation, find ways to motivate them and your gen z-ers by offering a mentor program and thus, an opportunity for team work.

Less team interaction limits innovation – working remotely has led to the siloing of teams in a lot of workplaces. Without being able to interact with other departments in the lunchroom or by simply being in shared space, teams have started to keep to their own areas. As your people make their way back to work, look for ways to encourage that interaction and bring back innovation and motivation.

Authenticity will spur productivity & well-being – when your team starts increasing their hours or returning to the office, it's important to acknowledge what everyone has been through. Allowing space to reflect on any issues they faced during lockdown or concerns they have about being out in the world again, will inspire connection and help with overall wellbeing.

Talent is everywhere – you all know how strongly I feel about this so I love when research supports what I'm saying! If you do have employees who have relocated during lockdown, have an open discussion with them about their intentions and hopefully you can collaborate to find a way to keep them in their role, from their new location. 
We are very fortunate to be in a part of the world where we're able to gain foresight into what may happen as we return to work. With the rest of the world paving the way for us, we can learn from their experiences and transition their findings into our own workplaces. Especially with these 7 tips to support a return to work over a resignation from it.
I'd love to hear from you if you need a hand preparing your people to return or, if you've come up with some other ideas you'd like to share.
Shannon Wood, Managing Director S8 Expert Recruitment Solutions. I have over 16 years recruitment experience specialising in the animal health industry across the ANZ region. Areas of expertise include sales and marketing, technical roles (Quality Assurance, Quality Control & Regulatory Affairs) and operational & financial positions. I work extensively in the veterinary, ruminant, monogastric, aquaculture and the pet specialty industries and I look forward to the next 16 years.